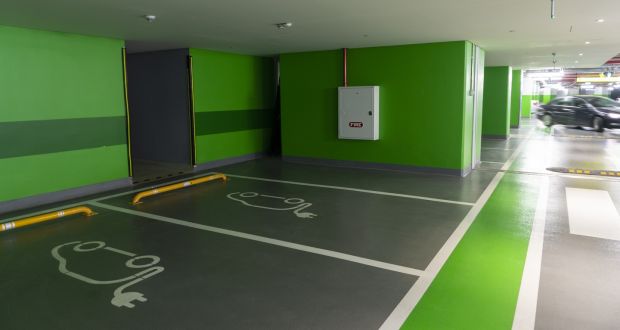 09 Aug

Connecting up the dots for charging EVs at apartments


Consultation only beginning now as the SEAI seeks to get grants rolled out by October


The Sustainable Energy Authority of Ireland (SEAI) has begun a long-awaited consultation process on how best to roll out electric vehicle (EV) charging points for those living in apartments or other high-density housing.

"Some of residents might say that this doesn't benefit them directly at the moment, although it might in the future. So that might create some some difficulties" said Robert Cazaciuc, programme executive for EV charging infrastructure at the SEAI. "Cabling can cost anywhere between €12,000 to €120,000 or even above depending on the size of the property. You might need some civil works to take place.

"Then there are the questions of who will pay for the electricity? Who will pay for the maintenance? Do you build just watch what charging you need at the moment, or do you build for growth in terms of the infrastructure that you put in place? So, those are some of the challenges."

The SEAI's current proposals – on which it is seeking public input – are to provide grants and incentives at two levels. At the basic Tier Two level, the idea is to subvent the installation of a charging point for an individual person or household, subject to the permission of their landlord or building management company being given. That would be granted at the same rate of €600 as currently applies to those installing a charger at a residence with off-street parking.

The Tier One grant is rather more complex, and seeks to offset the costs of installing large amounts of cabling and charging points for the owners of entire apartment blocks or housing complexes where there is no off-street parking for individual residents.

In that instance, the SEAI reckons that it will offers grants of between 50 per cent and 80 per cent of the cost of installation, although this is geared more towards the cabling and ducting requirements – the grant for the actual, physical charging plug points will still be capped at €600 per point. How the grant amount – whether it's 50 per cent or 80 per cent or anything in between – is to be thrashed out as part of the consultation, but will also be decided on a case-by-case basis.

The grants, for now at any rate, will only be available to existing apartment complexes, or other 'multi-unit developments' with no off-street parking availability. They won't be given to new-builds or to complexes or buildings undergoing renovation, as there is already legislation in place requiring such projects to provide a minimum number of charging points for EVs. There will also be no grant available for any upstream works required to improve or expand the electricity supply to the building – the landlord, owner, or management company will have to bear those costs.

That immediately raises the question of how such installations will be funded. For large commercial landlords, raising finance might not present too much of a hurdle, but it will be much more difficult for smaller or individual landlords, or for owner-management companies.

Management companies
Management companies will also argue that their funds are better spent on maintenance and other improvements. Then again, individual EV owners might well argue that there's a societal good to all of this, and that landlords – having benefitted from spiralling property values and rents – could do with giving something back.

Paying for charging will be another issue – in some cases, the ESB has specific rules about how much you can charge for electricity supplied to common areas in housing complexes, and that could undermine the cost-benefit analysis for those installing the charging infrastructure, even given the fact that such infrastructure is going to be increasingly demanded by legislation.

Even if a landlord or management company can be convinced to apply for the SEAI grants, and to carry out the necessary works, there are also serious questions over transparency and accountability – there are already legions of complaints over over-charging for services by apartment management companies, so how can it be ensured that only the appropriate and correct costs of charging are passed on?

"That's what we want to see in terms of how they're proposing to actually charge, and the passed-on cost when the infrastructure goes in, and how is it is all going to be managed. So we need to understand that as part of any grant application," said Declan Meally from the SEAI.

"We have been talking to equivalent bodies in the UK, and they have done some research into this," said Cazaciuc. "They were asking the same questions. They have found that they even though they haven't explicitly said what charges everyone should be charged to make it fair, the residents were being charged a fair price. There were a few very exceptional cases where there wasn't a fair price. So there might be pros and cons to being too prescriptive about what management companies should and can't do. But if there are issues, we'll obviously intervene."

Electricity grid
There is another issue, and that is the demand on the electricity grid. While the major energy suppliers have all consistently said that Ireland has enough energy generation capacity to cope with rising EV ownership, that usually comes with the caveat that management of that demand will be necessary. "We are mindful that smart charging for apartment blocks is key, especially given the larger demand likely to be put on the grid system from apartment blocks and their car parks," Gerry Cash from private charging provider EasyGo told The Irish Times.

"We believe that all grants should be directed towards smart chargers that can respond to the grid's needs. Currently any type of charger, dumb or otherwise, can be installed by any electrician and grant claims can be raised with SEAI. This will be a significant missed opportunity and will create issues in the future if not addressed now and could undermine 'Smart Cities' initiatives. The move to a smart grid needs to happen before the rapid increase in demand, not afterwards."

On the issue of how it has taken so long to get even this far in terms of apartment charging, Cash says "the Government wants to be involved in this sector and consequently, the oddities of the Irish public sector, related policies, and associated restrictions then come into play. More charge points in a competitive free market would be possible if the private sector was empowered."

There is then, of course, the question of how much all of these grants and investment costs the State. On that point, the answer is perhaps a little easier – the SEAI says that it has so far paid out €74 million in grants for the purchase of both electric vehicles and chargers for those vehicles.

To put that in context, last year, according to Green News, the Government had to purchase an estimated €150 million in carbon emissions credits, and pay another €125 million in fines to the EU for exceeding agreed CO2 limits. Added to which, the Green Party has calculated that air quality issues are costing an annual €2 billion in health-related costs and lower productivity due to lost workdays.

There is also a percentage issue to be considered. According to the SEAI's figures, Ireland's housing stock is divided up as 88 per cent houses, and only 12 per cent apartments. Occupants of those apartments are divided into 20 per cent owners, 20 per cent renting from a local housing authority, and 60 per cent renting from a private landlord.

It would be unfair to dismiss apartment dwellers as undeserving of extra attention when it comes to electric car charging schemes – after all, what's fair for one is fair for another, and we need to encourage as many people into EVs as possible.

Possibly, though, there needs to be some balance drawn between the fact that those living in apartments are likely to have easier access to public transport, and the fact that when they do drive, they are driving in urban areas, where reducing localised emissions is as important as cutting carbon.

As ever where electric cars and their attendant infrastructure is concerned, the answer appears broadly simple – having that more EVs on the road and more chargers for them are both good things – but there's a lack of simplicity in the routes we need to take to get there.