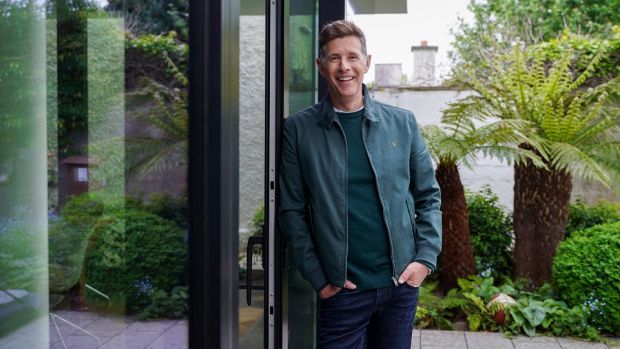 12 Aug

How Dermot Bannon is driving towards a sustainable future


Both in his Volvo XC90 T8 Plug-in Hybrid and at home, TV architect Dermot Bannon is making changes to become more environmentally-friendly


"The environment is not going to heal itself," says Ireland's fastest talking architect, Dermot Bannon, who is on a personal sustainability crusade.

"Covid-19 brought about many negatives, but the environment has definitely benefited from the lack of people constantly moving about in cars, planes and public transport," he says.

"I really hope this trend will continue. I'm certainly not going to be flying over to London for an outcome that can be achieved with a 10-minute Zoom call. Nor do I think people will be willing to put in long daily commutes anymore, and I suspect a hybrid working week – half working from home, half at an office – will be the norm. We've all gotten too used to the two-minute commute from bedroom to the laptop, to revert back to the old guard," Bannon adds.

A much admired recent full renovation of his 1930s home in Dublin 9 not only ticked all of his aesthetic boxes and design ideals, but "it was paramount the house did not rely on fossil fuels", he says.

Image courtesy of wwwirishtimes.com
The starting point of the renovation was the cladding of external walls with insulation, which Bannon likens to an overcoat. "If it's freezing cold outside, what's the first thing we do to keep our bodies warm? We pull on a big warm winter coat, the longer and more weatherproof the better. It's the same premise for an Irish house: wrap it in durable cladding first and only then should you move onto the extras – roof and floor insulation, windows, and heat pumps.
He used two types of external wall insulation (internal for the older part, and external for the new addition) and designed the new section of the house to wrap around the old part, so there was maximum external wall space for cladding. "It's a much more effective way to insulate a home than cavity filling or lining internal walls," he says.
The next step in "turning a leaky bucket into an airtight space", was closing any gaps, such as fireplaces, chimneys and vents, sealing all the external walls and around the windows to make the house airtight.

Image courtesy of wwwirishtimes.com
"We installed a heat recovery system, which effectively brings in fresh air through the roof and which is in turn warmed up using the heat from the warm air extracted from kitchen and bathrooms," he says. Bannon also put in a heat pump as the house's main heat source and fitted smart thermostats into all of the rooms too.
"They were really annoying at first and were forever changing the temperature and knocking the heat in various rooms on and off, but they take a few months to learn your living habits," he explains. "Now they seem to know our routine better than we do and keep all the rooms at a perfect temperature – we walk around in shorts, barefoot all year round," he says.
And although there are large windows a plenty and a big, glazed wall running the entire expanse of the kitchen and living rooms – "of course there is, it's my house" – the use of tinted solar glazing, "means the sunlight beats in, but there is no glare or overheating, you're not left feeling like you're boiling away in a greenhouse".
The collective result of all of these adjustments is a period house that has achieved an A2 energy rating, and power bills so low they are negligible, says Bannon.
Keep on motoring


Image courtesy of wwwirishtimes.com
Outside the home Bannon is continuing to reduce his fossil fuel dependency and has this year switched to a Volvo XC90 T8 seven-seat Plug-in Hybrid, which he feels will change his driving habits.
"You get up to 51 kilometres of pure electric range on it, which is perfect for urban driving. I've started realising how my bad driving habits use up so much fuel or battery," he laughs. Habits such as relying on the brakes rather than using gears to slow down, are two things he points to.
"I've actually become obsessed with seeing how much I can add to the range – it's like I'm in a competition with myself to bank as much battery power as possible before I get to my destination, so I drive much better as a result."
Driving a plug-in hybrid also means that Bannon needed to install a car charger at home – a long-term solution that will work for both plug-in hybrids and fully electric cars.
"Volvo's charger partner EasyGo made this very easy," he says. "Before installing, they came out, assessed my driveway, and gave me advice on power management and the best charger for my needs."


Image courtesy of wwwirishtimes.com
Like its predecessors, the XC90 is sleek and stylish and features classic Volvo styling cues such as the company's "Thor's Hammer" LED headlight design. In the cabin, there is a blend of high-end materials such as wood, crystal and metal.
It all appeals to Bannon's inner designer. "I've always likened Volvos, even the long old estate models, to an Eames chair – pure design classics, with functionality, efficiency, and Scandinavian soul," he says.
"The Swedish have this innate understanding of minimalism which translates to their cars, even in the cockpit there are no big flashy dials or blingy extras, just beautiful lines, natural materials and quite a sense of luxury – they are not showy-off cars, because they just don't need to shout about their beauty."
Safety is paramount in the XC90 thanks to extensive use of boron steel, as well as numerous safety systems designed to protect those in and out of the car. Volvo's City Safety technology combines automatic braking functionality and collision avoidance systems, and the Pilot Assist driver assistance system works up to 130 km/h on clearly marked roads.


Image courtesy of wwwirishtimes.com
Electric cars and sustainable cities
Electric cars and sustainable cities are where it's all at for the future, Bannon says. "The Government needs to fast-forward its efforts to make this happen though, if they really want to encourage an electric revolution. It should be installing innovative charging points – like rechargeable plates under on-street parking or plates in lampposts that can recharge a car's battery just by parking bedside them."
He adds that we are only at the beginning of this journey, and battery innovation is where all the research is being focused right now. "In 20 years' time we'll probably wonder how we ever used petrol and oil at all," he says.
Discover more about the Volvo XC90 T8 Plug-in Hybrid at volvocars.com/ie